Map Unavailable
Date/Time
Date(s) - 05/19/2018
7:30 pm - 9:30 pm
Location
Home of Rabbi Marc & Paulina Labowitz, Davie, FL
Categories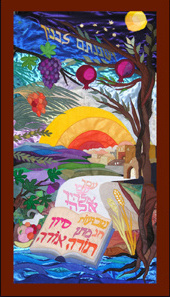 The word Shavuot means "weeks." It marks the completion of the seven-week counting period (Counting of the Omer) between Passover and Shavuot.  The Torah was given by G‑d to the Jewish people on Mount Sinai on Shavuot more than 3,300 years ago.
Every year on the holiday of Shavuot, we renew our acceptance of G‑d's gift, and G‑d "re-gives" the Torah.  The giving of the Torah was a far-reaching spiritual event—one that touched the essence of the Jewish soul for all times. Our sages have compared it to a wedding between G‑d and the Jewish people.
Pot luck celebrations like this are not to be missed! For pot luck, please bring dishes that are parve, vegetarian or dairy.  Also, please park on the street with wheels close to, but not on, the swale. Please call the office for Rabbi's home address.
This event is a member privilege, and a great reason to join now!  Attendance is limited to 30 people.  Please RSVP to the TAO office at 954-888-1408.